Collège Cévenol The History and School

Collège Cévenol International
"le monde entier dans un collège"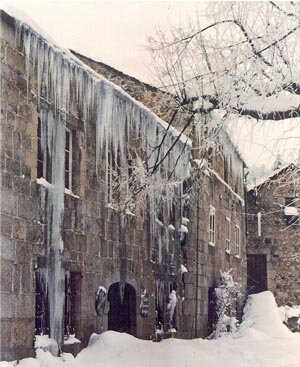 History
The Collège Cévenol was founded by two local ministers, André Trocmé and Edouard Theis, in 1938. The Collège Cévenol responded to foreign occupation by maintaining classes and providing shelter for refugees.


The Campus
The school is located in the Cevennes Mountains on the edge of the Central Massif region, very near the geographical center of France - a five-hour drive from Paris and an hour and a half drive from Lyon. The campus is a quiet place surrounded by forested landscape, away from any major city. As high as 1000 meters, which allows all kinds of winter activities, the school is a ten-minute walk from the village of Le Chambon which flanks the valley of the Lignon River. The invigorating climate and a 40-acre wooded campus give the students a sense of personal freedom and a feeling of security.

Collège Lycée Cévenol International
The international high school offers boarding, boys' and girls' dormitories, indoor and outdoor sports grounds, classroom buildings, including computer rooms, a library, a spacious art and craft workshop, and a performing laboratory. There are about 50 dedicated teachers - including teachers of French for foreigners.
Horseback riding is available in two local riding clubs.

International Work Camp
Workcampers, aged 18 to 25, come from many countries. The group size is usually from 15 to 25 with a maximum of 8 Americans. The setting provides an atmosphere which promotes cross-cultural exchange. Two years of high school French or the equivalent are required.

Physical work may entail painting or carpentry according to the needs of the school. The schedule also includes time for leisure activities, group meetings, and excursions. Contact Chris Young for details and an application.



Summer School
The Ecole d'Eté offers high school students, ages 14-18, an intensive program in French language and culture. Two years of French are required.


About 20 students attend each summer, some of whom are French. Afternoons include soccer, tennis, and swimming, art and music. Chartered buses are available to and from Paris or Lyon.



Academic Year
School year study is available for 1, 2, or 3 semesters. Currently, there are over 250 students enrolled from France and other countries. More than half of the students are boarders. Some Americans stay for one or more years preparing for the Baccalaureate. Modest scholarships are available from the American Friends of the Collège Cévenol.


Alumni Graduates of the Collège Cévenol have made notable contributions to Europe, Africa and the Americas. Alumni can stay in touch with one another.